Christian education is a critical facet of our Sunday morning together! Kicked off each year with Rally Day, Sunday School is held between services at 10 a.m. on Sunday mornings. We offer a variety of classes for ages 4 through adult. Our curriculum each Sunday matches what is taught in worship that day.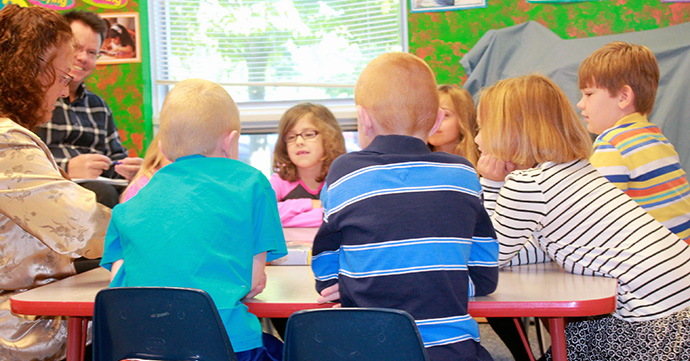 Preschool – Fourth Grade: all children ages 4 through fourth grade follow the lectionary-based Spark curriculum. This age group is also part of our Preschool or Mini Bethel Youth Group.
5th, 6th and 7th Grade: all children currently in fifth, sixth and seventh grade are invited to Sunday School in the second classroom on the right in our education hall. This group will follow the Submerge curriculum. This age group is a part of our Little and Junior Bethel Youth Group – J/L BYG.
8th Grade through High School: students in 8th grade through 12th grade will come together this year in a multi-experience Sunday School program. The group will meet weekly in the youth room and will have rotation leaders. Jeri Stimson and Amy Bollinger will rotate teaching. Jeri will lead a Bible application lesson, teaching youth how to apply to Bible to everyday situations; while Amy will lead the group in a faith engagement program that will include service projects and hands-on application.
Adults: all adults can participate in one of two Sunday School options  – a class traditionally led by Pastor Ray meets in the Fellowship Hall. The format is usually themed for a set period of time to allow for focused devotion and discussions. Another adult Sunday School class is  held in the conference room and is book based.
Sunday School Schedule
The following Sunday School schedule is subject to change pending any unforeseen circumstances within the Church. Please check the morning announcements and Bethel-Lutheran.org for updates. Sunday School runs every Sunday September 13, 2015 through Sunday, May 22, 2016 except the dates listed below:
Sunday, November 29 – Thanksgiving & Advent Kick Off Sunday: we will have crafts rather than Sunday School. The crafts are traditionally 6th grade and younger age appropriate; but we appreciate the older kids attending to help the younger kids.
Sunday, December 27 – Christmas Sunday: No Sunday School
Sunday, March 20 – Palm Sunday: we will have crafts, rather than Sunday School. The crafts are traditionally 6th grade and young age appropriate; but we appreciate the older kids attending to help the younger kids.
Sunday, March 27 – Easter Sunday: No Sunday School